SEATTLE MANLAND LOGO MURAL
Private Residence in Monroe, Washington
The Center Seahawk logo was cut out of birch wood, painted and mounted with a back lit neon light.  It is absolutely stunning.  Every thing you see on this wall is painted …even the bricks.  See the full photo layout for this painted mural from start to finish!
MEET "OWEN" The little Johnson on the Lake…
Mural Painting up north in a wine cellar and private bar.  I had fun with this one,  I added a private label to make the owner proud of his little place on the lake and the owners can gladly say they'll never drink alone again.
 
WOW – STAIRCASE
PAINTING
What do you do with that boring staircase?  You Paint something fun and oversized!
These Flowers were 10 – 12 feet tall!
WALL TATOOS
This is a little painting in places that add just enough to enhance the space!
KIDS ROOMS
No room too small and anytheme goes!  Rooms starting at $175 plus materials.
Its fun to coordinate bedding and accessories and add a little bit of painting to your kid's or grandkid's walls.
EUROPEAN GLAMOUR WALLS
Talk about WOW!   These walls look like they illuminate with the Silver and Bronze foils, with a venetian plaster overlay and top coated with glazes.  This is a 3 step process and is time consuming to achieve this fabulous look.
FUN ROOMS
Parade Homes, Faux Finishing, Textures, Metallics and Handpainted Stoneybrook Paper
STUCCO RELIEF AND MOLDS
3 color Faux Finish back ground with pine branch stencil stucco relief and Pine Cone Mold applied.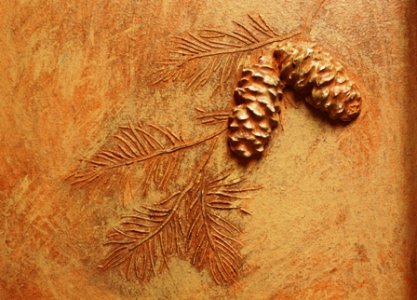 THE BEACH ROOM & BASEMENT BARS
FAUX FINISHING
 CLICK ON COMMERCIAL PROJECTS TO VIEW PORTFOLIO!